EQQUERA Mother Hen and Parasite Chicks the Next Generation Combat Air System
We are the first to invent the world's first flatbed unmanned aircraft and family of unmanned vehicles combined with system-of-systems that work together to enhance the next generation of air superiority and information superiority.
On December 12, 2019, EQQUERA was granted the European Patent and validated in 17 countries, including U.K, France, Germany, Spain, Italy, Netherlands and Poland. The concept is patent pending in the U.S. and Canada.
Our vision is to contribute to the military to build a family of unmanned systems for future military readiness. The main goal is to introduce a family of UAVs and multi-purpose and multi-function interconnected communications and operating platforms that can be incorporated into system-of-systems as well as integrate all systems into a single force structure. These capabilities could bring necessary requirements to enhance airpower and information superiority for the aim of deterrence that may help to avoid world military conflicts and encouage for them to restore peace and security.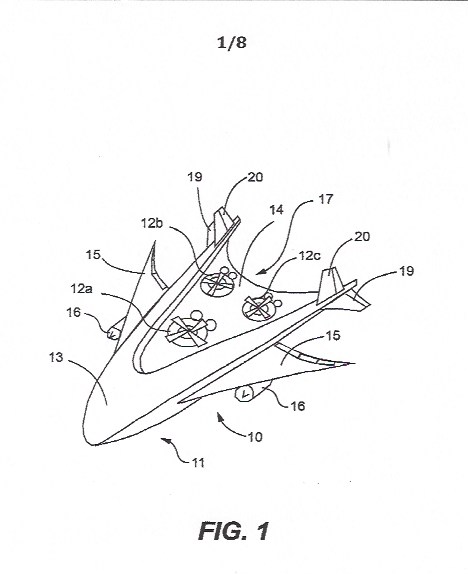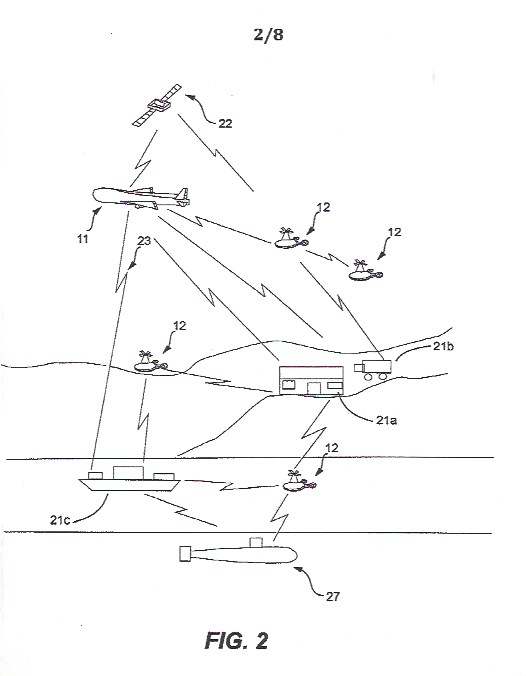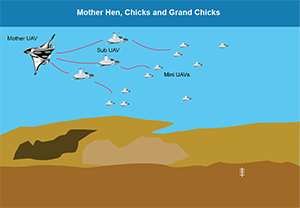 The U.S. Europe, NATO and Canada Deterrence Strategies and Our Innovation
When it comes to deterrence, it is important to win both air power and information superiority. This can achieve by enhancing multi missions operational capabilities in all domains air, sea, ground and space, also by developing uninterrupted airborne intelligence, surveillance, and reconnaissance (ISR) data receiving and transmitting platforms. Particularly, to receive and transmit data not only from high-mid and low altitudes but also multiple systems have the ability to communicate with each other and access areas where manned and unmanned systems are unable to go.
Another unique capability of our innovation concept is that communications connectivity among the family Mother Hen, Chicks, and Grand Chicks. Specifically, to collect and stored data when satellites are unable to communicate (due to weather, location of satellites, or other reasons) and transmit such data when satellites are ready to receive.
The most significant novel application in this concept is the prospect of developing a family of UAV systems that the large UAV to deploy smaller systems and recover small systems in midair. Also, small UAVs are capable of reaching places manned platforms cannot go.
EQQ Mother Hen and Parasite Chicks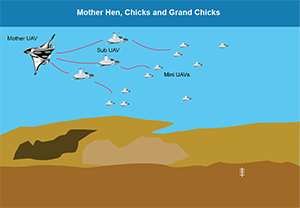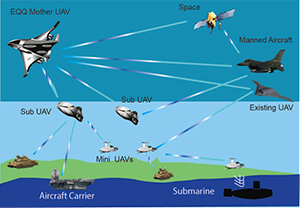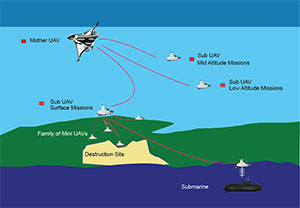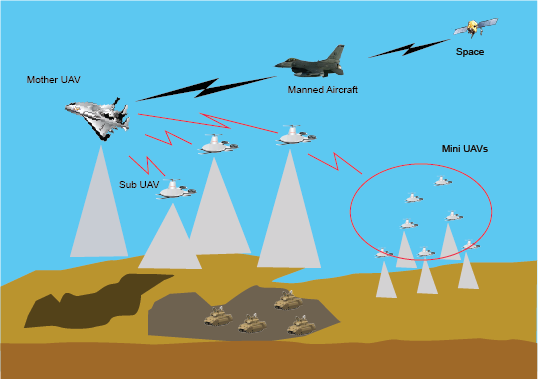 The EQQ Unmanned Airborne Aircraft Carrier concept was innovated based on 100 years of aircraft industry improvements, and assessing the assumptions of success and failures of these systems. These assessments further analyzed with paying careful attention to the other elements: existing manned and unmanned aircraft systems, mission systems, communications connectivity, accomplishments and shortfalls of those systems, data communications architecture, mission management technology, and technology requirements to enhance Intelligence, Surveillance, and Reconnaissance (ISR) missions capabilities.
The U.S. Military News - Aug 2019
The U.S. Air Force Maj. Gen. Michael A. Fantini, director of the Air Force Warfighting Integration Capability said "It is not a thing. It is not a platform," he said. "The next generation of air superiority is a network-connected family of systems that works together to get after the things we need to get after for our nation to ensure air superiority. It's not one thing; it's a multitude of things." https://www.defense.gov/explore/story/Article/1928778/next-generation-air-dominance-will-rely-on-data-sharing/
GLOBAL NEWS - Future Combat Air System
_________________________________________________
Next-Generation European Future Combat Air System Ready for Take-Off
EUROPE NEWS: Next Generation Future Combat Air System (FCAS) - Germany, France, Spain Jointly signed two important key documents 26 May 2020 for Future Combat Air System is to connect all components in aerial combat from 2040 - manned and unmanned
Next Generation Fighter -Combat Air System of Systems (FCAS)

Next Generation Fighter -Future Combat Air System France-Germany - Spain formally Joined the Project in 2020
https://www.globalsecurity.org/military/world/europe/fcas.htm
__________________________________________________

The US Air Force's Next Generation Air Dominance program
https://www.defensenews.com/opinion/commentary/2019/07/24/the-us-air-forces-next-generation-air-dominance-program-is-key-to-mission-success/
____________________________________________________________________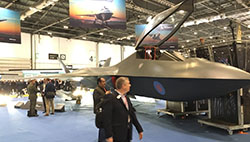 British next-generation fighter program
https://www.defensenews.com/global/europe/2020/07/20/british-next-generation-fighter-program-taps-new-suppliers/