We are the First to Innovate a Flatbed Unmanned Airborne Aircarft Carrier and Unique Unmanned Aerial System (UAS)
EQQ Mother Hen and Parasite Chicks
We are the first to innovate a "Flatbed Unmanned Airborne Aircraft Carrier" comprising of a wide-range of missions capabilities unmanned aerial system (UAS) that would have the ability to enhance air power, and information capabilities for military deterrence. Our mission is to support to enhance military capabilities with respect to deterrence that would help to avoid military conflicts and encourage for a peace and security around the world.
The EQQ Unmanned Airborne Aircraft Carrier concept was innovated based on 100 years of aircraft industry improvements and assessing the assumptions of success and failures of these systems, including existing manned and unmanned aircraft capabilities, performances and shortfalls, rapid development of new technologies, communications capabilities, mission management technology and the development of Intelligence, Surveillance and Reconnaissance (ISR) capabilities.
The most significant novel application in this concept is the prospect of developing a family of UAV systems that integrate into all unmanned and manned systems, space and human systems that would finally evolve into a single force structure.
NATO - The U.S. - Canada Deterrence Strategies
The U.S. NATO and Canada defence and deterrence strategies could play a significant role for future military readiness to protect and defend challenges posed by anti-access area denial weapons. These strategies suggest that 21st century and beyond need more aggressive military strategy plans that would prevent major wars, in fact, not to start wars. Nonetheless, the U.S., Canada and the NATO focus on maintaining and developing advanced conventional military capabilities and military modernization strategies in the event of deterrence failures, and conflicts escalate. Since Canada benefits from the deterrent effects provided by NATO, NORAD and USNORTHCOM, it is important that the modernization strategy should be developed based on all-domains, and missions capabilities that will require strengthening U.S. and allies conventional military capabilities.
This modernization strategy recognizes the capabilities most needed to defend against all potential adversaries. Since deterrence is traditionally focused on conventional and nuclear capabilities, also space and cyber domains, it is crucial that the Air Force must maintain the air power superiority and the information superiority. These superiorities would strengthen deterrence and defence posture, and adapt to a multi-domain threat environment.
Air Power Superiority and Information Superiority
When it comes to deterrence, it is important to gain "air power superiority" and "information superiority". In particular, multi missions operational capabilities, and uninterrupted airborne Intelligence, Surveillance and Reconnaissance (ISR) platforms. This means the ability to obtain information from not only high-mid and low altitudes; also multiple systems that have the ability to operate with each other and access areas where manned and unmanned systems are unable to go.
EQQ Mother Hen and Parasite Chicks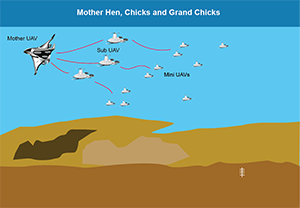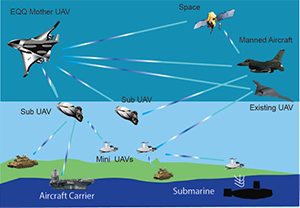 ________________________________________________________________
History of Airborne Aircraft Carrier
________________________________________________________________
The aviation history demonstrated that between 1917 and after World War II, the United States, Soviet Union, Britain, and Germany expressed their keen interest in experimenting with airborne aircraft carriers in the sky. Particularly, capable of carrying parasite fighter aircraft, with the ability to launch and recover in midair. History revealed that these concepts weren't completely successful, especially regarding recovering parasite aircraft back onto the mother aircraft. In fact, these dreams faded almost three-quarter century ago, mainly due to lack of finding an effective solution on recovery capabilities. Nonetheless, the U.S. and other nations continued to remain interested in the airborne aircraft carrier concept. In the early 1970s, the U.S. aerospace industry brought various designs along the line of the original idea, using an existing platform, Boeing 747 jumbo jet as a flying mother aircraft carrier. This design was considered basically changing wing layouts and using the early system of belly hatch on a trapeze system. However, this also did not materialize.
Presentations and Conferences

EXHIBITOR: Future Forces conference is a highly recognized international event in the defence & security field organized biennially in Prague Czech Republic.

SPEAKER PRESENTATION: The largest and well recognized engineering society in the world that promotes the art, science & practice of multidisciplinary engineering and allied sciences around the globe.

EXHIBITOR:At the AUVSI 2013, Washington D.C. conference the IEEE recognized that the EQQ Flatbed Unmanned Aerial System was one of the most interesting concept.

EXHIBITOR: ArcticNet is supported by the Government of Canada, through the Networks of Centers of Excellence program. The key objective of ArcticNet is to contribute to the development and dissemination of the knowledge needed to formulate adaptation strategies and national policies to help Canadians face the impacts and opportunities of Arctic climate change and modernization.

PAPER ACCEPTED: AUVSI Israel 2012 accepted our technical paper and provided us an opportunity for an oral presentation on the EQQ Flatbed Unmanned Airborne Aircraft Carrier concept. The confereance was chaired by the Directorate of Defense Research & Development (DDR&D) of the Israeli Ministry of Defense.

Association for Unmanned Vehicle Systems International 2011 - Washington D.C. USA
EXHIBITOR: Association for Unmanned Vehicle Systems International Washington D.C. - 2011 This association is the world leading organization representing the opinion of the unmanned systems and robotics community.

EXHIBITOR:The world's largest organization dedicated to the advancement of unmanned systems and robotics. The AUVSI members work in the defense, civil and commercial markets.

EXHIBITOR: In 2013 AUVSI's Unmanned Systems Conference held in Washington, DC. This convention featured high tech military equipment and new aerospace technologies were displayed by leading industries .

PAPER ACCEPTED: International Offshore and Polar Engineering the primary objective is to disseminate scientific knowledge and provide a timely exchange of technical expertise and information. The Annual International Offshore and Polar Engineering (ISOPE), holds one of the worlds largest of its kind with referred scientific papers.

EXHIBITOR: AUVSI 2012 was another successful event that we were able to introduce the EQQ Flatbed Unmanned Airborne Carrier concept to the aerospace industry and the military. We received positive comments and built-up a roadmap for future development of our concept.

PRESENTATION: For 26 years the International Association of Wildland Fire (IAWF) provides a significant contribution and constant commitment to the global wildland fire community. The IAWF principle objective is to facilitate vital information and promote advance knowledge of wildland fire activities and educate firefighters and the community on wildfire.

SPEAKER PRESENTATION: The Unmanned System Canada represents, promotes and facilitates the Canadian unmanned vehicle community to achieve Canadian and worldwide goals.